Tender Barbecue Goodness from Our Chicagoland Pitmaster to You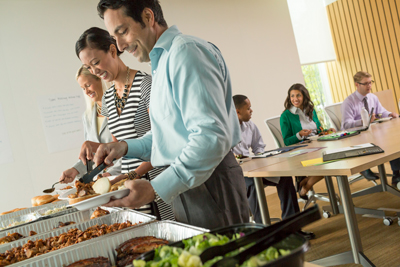 You hope they're not only there for the food, but if they are, you want it to be great food, right? Well good news! You can keep your company parties, business launches and ribbon-cuttings hopping with the best barbecue in the Chicago area. Awesome food is one of the best ways to knit your employees together, creating those fun-filled and finger-licking moments that lead to the best memories, and get people to come in the first place.
Let's be honest, a good meal has bonded people since the beginning of time, whereas "a good all-day corporate retreat" has bonded people since approximately … well, since your last catered barbecue lunch. Which is to say, we're all human, and if you want a happy, sunshiny team at your next event, top-notch catering is the way to go!
Your Favorite Answer to the Search for "Corporate Catering Near Me": Famous Dave's Chicago!
As the leading Pitmaster in your area, we provide a huge array of delicious, authentic barbecue options for business lunches and office parties. Call off the party committee, because there's no need to put any more effort into finding catering. We're here for you, and you can finally put to bed the question, "Where can I find the best corporate catering near me?"
It's no one-size-fits-all affair, either. You get to select the style that best fits your launch, lunch or celebration, choosing from:
Barbecue Classics:

These hail from Georgia, Texas and other American barbecue heartlands. Think pulled pork and chicken, country roasted chicken, beef brisket, hot link sausage, and a variety of side dishes to perfectly complement the down-home experience.

Ribs:

Your options are St. Louis-style Spareribs and Baby Back Ribs (or, of course, both), smoked low and slow to delicious, caramel perfection.

Sides and Desserts Made from Scratch:

What's that, you say? It tastes just like mom used to make? Why make hard choices when you can get all the fixin's, like mac 'n cheese, potato salad, coleslaw, green beans and an array of delicious desserts?
Not only do we bring our A-game every time we offer up our delicious barbecue options, we do it in style. You won't have to handle a thing. Instead, you just let us show up, set up and start serving.
Say Goodbye to Boring Office Parties and Business Lunches in Northern Illinois
Whether you're in Chicago or the surrounding areas, you'll find Famous Dave's to be the most convenient and the best-tasting catering option around, and we've got a raft of awards to prove it. Since our inception, we've won more than 700 awards around the nation … that many people can't all be wrong, can they? (Hint: They're not.) If you want to find out what all the fuss is about, it's time to try Famous Dave's for yourself.
Now you can cultivate that close feeling amongst employees, business partners, members of the community and more by calling us in to your next company picnic, beach day, end-of-quarter celebration or "just because" blowout. We'll bring the food. You bring the fun.