Who's the Best Wedding Caterer Near Me? Famous Dave's is the Answer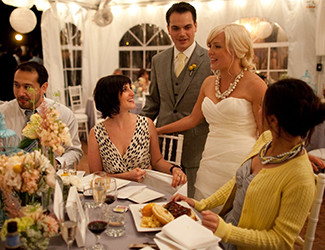 Your friends and family attend your wedding because they love you, they wish you well, and they want the lifelong memories of seeing Mr. or Mrs. Right say "I do." But that's not the only reason: They're also there for a darn fine meal on the house. Weddings are the perfect opportunity to eat till you burst, then top it all off with fantastic cake and some dancing. (And then a lot of sleep. They're going to need a lot of sleep after all that amazing food.)
So, you really need to search the best answer to, "Who's the best wedding caterer near me?". Pick the wrong place and you'll definitely still have a nice wedding, but it might not be quite as OMG memorable as you're hoping. Make the right choice about where to cater your wedding in Chicagoland, however, and you'll be complemented on the slow-roasted BBQ for years to come.
Celebrate Outdoor Weddings, Casual Weddings, Barn Weddings and Western Weddings in Style
Oh, did we say BBQ? Yes, that's because we think you'll find Famous Dave's to be the absolute best option for catering any outdoor, countrified or casual wedding in the Chicago area.
Lately, the world has fallen in love with weddings in beautiful, rustic settings such as barns. In fact, barn weddings have become so popular that there are whole businesses run just on renting out barns to the pursuit of wedded bliss. We've found, though, that no wedding is complete without the right food to complement the scene, which is where some good old-fashioned barbecue comes in. You'll find our offerings perfect for wedding held at:
Wild West Recreations
Your Backyard
A Family Estate
Parks and Campsites
The Beach
Open Fields
… and more. There's a casual intimacy created by glowing lanterns, firelight, candles in Mason jars, dance floors made of old planks or, heck, just some packed dirt. Our food complements that intimacy perfectly, harkening back to previous centuries, where all a celebration needed was some soft lighting, some excellent food and some happy folks.
That's where our delicious slow-smoked barbecue and scratch-made sides come in. Chicken wings, spicy meatballs, fruit and veggie platters, smoked salmon, ribs, corn bread … it's everything you remember from your last hoe-down, classed up with vegetarian options, beautiful buffet setups and even food truck service, if that be your ever-so-modern desire.
The Best Barbecue in Northern Illinois Comes from Famous Dave's Chicago
Of course, you've got a budget to stick to, which is why we make sure to offer very precise quotes ahead of time. There will be no day-of sticker shock to deal with; we make a plan ahead of time and then you can just focus on your special day while your guests focus on filling their tummies. And with 700 awards nationwide since our inception, we feel "pretty sure" that's exactly what they'll be doing.
Don't wait any longer to find out how our top-quality barbecue can lead to your top-quality wedding. We love watching people say, "I do," almost as much as we love compliments to the chef. So, call us today and we'll make sure both happen in style!