Professional Catering Company Near Naperville IL
Famous Dave's is Chicago's Premier BBQ Caterer!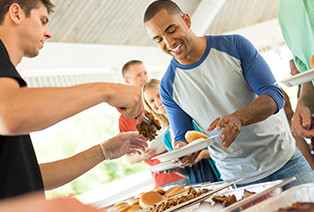 Looking for delicious barbecue for your special event? We're here for you, with the perfect food to complement your carefully planned wedding, office party or family reunion. Whether you're serving 6 people or 600, our expert pitmasters and staff will ensure your special event is actually truly special.
Our award-winning barbecue is the perfect complement to any relaxed gathering, from Western-style weddings in rustic barns, to company picnics replete with three-legged races and horseshoes, to your Uncle Alp's 60th birthday. Nothing can't be improved with endless ribs, mashed potatoes, cornbread and cold drinks. At least, that's what we think, and our customers will back that up.
View/Download Our Catering Menu

---
Wondering whether catered barbecue is for you? Here are a few of our most popular events to have catered:
Party Catering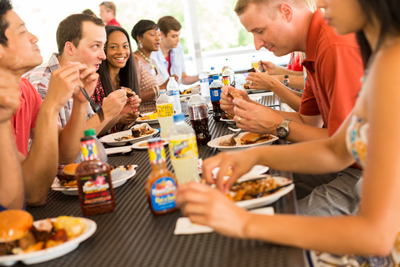 Parties are a time-honored human tradition. While the purpose and trappings of the party is as varied as the people that throw them, they all have one thing in common: People want food. We wouldn't admit it, but sometimes the only reason we even go to parties is for the food. I mean, there's so much Netflix out there, we have to have some motivation, right? You'll find our menu perfect for:
Family gatherings
Retirement Parties
Holiday Parties
Rehearsal Dinners
and more!
Okay, we're kidding. But still, a heaping helping of barbecue goodness certainly makes a big turnout more likely. Do birthday parties, golden anniversaries, engagement parties and retirement sendoffs in style now. Just let us know what you need, and we'll craft a menu to please every palate today.
---
Corporate Catering
Holiday festivities, big anniversaries, mergers any other special dates all deserve celebration. Throwing a great office party can be tricky, though. Knitting together different tastes, different personalities and different dietary needs can prove to be a challenge, but here at Famous Dave's it's a challenge we're up to.
Choose from our BBQ Bundles:
Piggy Party Pack
For kids 10 and under we offer the Piggy Party Pack that serves 8-10. Choose from Chicken Tenders or Mini Corn Dogs with your choice of two sides, Oreo Cookies and lemonade.
Just the Meat Please
Serving around 8-10 guests you get 2 Whole Roasted Chickens, 2 pounds of our delicious Texas Beef Brisket, Georgia Chopped Pork, Hot Link Sausage and a loaf of Texas Bread!
BBQ Blowout
Got a big guest list? Our BBQ Blowout bundle serves 18-20 people. It comes with Mild Chicken Wings, St. Louis-Style Spareribs, Georgia Chopped Pork, Buns, Wilbur Beans, and our delightfully Creamy Coleslaw.
Call us to plan the perfect menu, and we'll give you a firm price depending on your head count and selections. Leave the food to us. That way, you can turn your attention to planning the other aspects of your party. Budget-friendly and sanity-saving: That's Famous Dave's for you.
---
Graduation Catering
Celebrate your graduate in style with our huge range of barbecue options. Whether your loved one adores ribs or brisket, wants a Sloppy Joe or craves a veggie burger, we've got the goods. You can pick a menu perfectly tailored to their tastes, and please every other attendant at the same time. Set up your event in your home, a backyard, a park or a spiritual center.
We provide you a variety of different food choices and also offer you help when it comes to deciding which will pair best together. Your guests will not go hungry - guaranteed! Leave the grub to us - now all you have to do is remember to order the cap and gown, and get the perfect present too.
---
Wedding Catering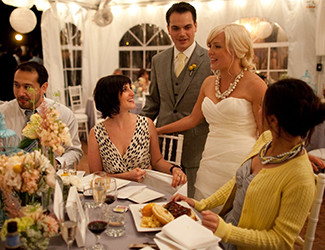 So, you want to tie the knot in style. Of course, you do, and one of the most important facets of any wedding is the food. If you're looking for the perfect meal to complement a backyard wedding, in an old rustic barn, a Western-themed blowout or a lakeshore luau, our award-winning pitmasters will make sure it shine.
Combine our expertly slow-roasted meats with our traditional sides and cold drinks, and watch your guests' faces light up. Be sure to taste our food ahead of time so you can perfect your menu and eliminate stress on the day-of. From appetizers following the ceremony to the big dinner to snack-ish items after the cake-cutting, we'll do it all just the way you want it, so call us today to learn more.
Famous Dave's for Any Chicago Occasion
Have another celebration coming up and don't see your function represented on this list? That's totally fine. We will hand-tailor a menu to any event, and serve a huge variety of locations in Chicago and the wider metro area. Plus, we believe in being honorable and accountable, and helping you stick to your budget. You can simply set your menu, give us a head count and get a firm quote, then go about your business without fear of changing prices or last-day expenses.
Have other questions or needs? No problem. You can always come into our restaurant to sample the food and make sure it's for you, then ask one of our staff about next steps or just give us a call today. We can't wait to make your event as dope as it deserves to be. And while we might be biased, we think it all starts with barbecue. And we think, after you try what we have to offer here at Famous Dave's, you'll agree.
Let's get to planning. Call us for a FREE CATERING QUOTE - we can't wait to work with you!