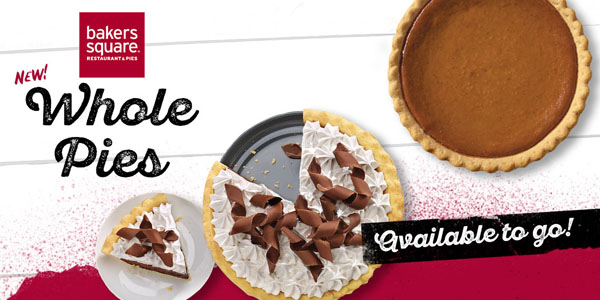 Order Bakers Square Pies with Famous Dave's
Say hello to our new friends! Every good barbeque needs a mouth-watering pie! Famous Dave's has partnered with Bakers Square to give you America's Favorite Pie with America's Favorite BBQ!
French Silk (3780 Cal) $19.99
Semi sweet chocolates blended into a fluffy, mousse-like filling in a flaky pastry crust. Topped with real whipped cream and shavings of milk chocolate, dusted with powdered sugar. Our #1 selling pie!
Lemon Supreme (3950 Cal) $19.99
A layer of our signature supreme cream cheese base consisting of blended cream cheese and whipped cream, topped with a tart lemon filling, made with a special baker's lemon puree. Real whipped cream border and rosettes.

Cherry Pie (3130 Cal) $15.99
Our award-winning sugared, double pastry crust, filled with tart Michigan red cherries, baked in natural fruit juices. *Seasonal Availability
Harvest Pumpkin Pie (2760 Cal) $16.99
Real pumpkin blended with eggs, brown sugar, heavy cream and spices, baked in our traditional flaky pastry crust. *Seasonal Availability
Southern Pecan Pie (3770 Cal) $19.99
America's original nut pie, made with baked brown sugar, butter-pecan filling, topped with a layer of the highest quality pecan halves. *Seasonal Availability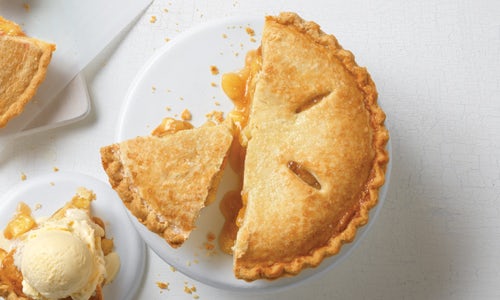 Country-Apple Pie (3260 Cal) $15.99
Sweet, crisp Michigan Northern Spy apples, seasoned to perfection with Saigon cinnamon and covered in our flaky, award-winning pastry crust.
Tax and gratuity not included. Available only while supplies last. 24 hours advance notice required for whole pies. For more information visit Famous Dave's in Addison, North Riverside and Orland Park.