The Best BBQ for Chicago Birthdays, Retirement & Holiday Parties, & More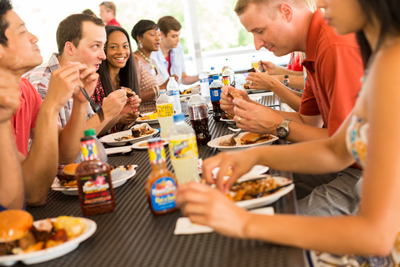 It's time to celebrate! You've chosen a venue for your party, sent out the invitations, collected the RSVPs, bought the decorations, talked your mom into going even though she hates "That One Guy" who'll be there, purchased paper plates and fancy napkins, fielded another phone call from your mom who really does not like "That Guy", called in a favor to the drummer of an awesome local band, prepped party favors, talked your mom off Yet Another Ledge and, all around, are feeling pretty good about how things are shaping up.
The only problem? No food yet.
Okay, maybe that isn't exactly how your party planning goes, and maybe your mom is way cooler than our moms sometimes are about big events. But overall, planning a party requires a million tiny steps if you want everything to go off without a hitch. That's why you need an experienced, professional and award-winning catering company at your back for the big day. Well, maybe we just think award-winning is necessary because we have more than 700 of them nationwide, but either way: Wouldn't that be nice? We're pretty sure you just said "yes," which means we've just become …
Your One-Stop-Shop Answer to "What's the Best Party Catering Near Me?"
If you're looking for delicious, delectable and convenient catering in the Chicagoland area, all at an affordable price, Famous Dave's is here for you. We help bring your parties to life with amazing barbecue in a variety of styles, paired with the perfect sides to complete any occasion. Our menu options are extensive, and include:
Meat Selections: St. Louis-Style Spareribs, Texas Beef Brisket, Georgia Chopped Pork, Country-Roasted Chicken, Barbeque Chicken, Barbeque Pulled Chicken, Hot Link Sausage, Grilled Salmon, Grilled Chicken Breast
Side Dish Selections: Wilbur Beans, Creamy Coleslaw, Potato Salad, Garlic Red-Skin Mashed Potatoes, Dave's Cheesy Mac & Cheese, Green Beans
Dessert Selections: great options including 2 types of decadent scratch made Banana Pudding
With Famous Dave's on the job, your guests will have a great time at parties of any kind, from graduation events and birthday parties to anniversaries and rehearsal dinners. Our Famous barbecue is perfect for your Fourth of July party, and sets the perfect tone for an extended family picnic, or high school reunions. No matter what BBQ fixin's you need, we're here to help you get it.
Indoor and Outdoor Catering Services That Won't Break the Bank (But Might Bust a Belt)
We know that a lot of companies toss the word "affordable" around like it's no big deal. So we want to assure you that we know it is. Whether you're dealing with a company credit card or a personal bank account, your budget matters. Which is why we offer you a firm quote ahead of time, based on the number of heads and the options you choose. That way, you won't be met with a surprise when the big day finally arrives.
So, you know it's affordable, you know it's delicious and you know it's time to give us a call. We'll help walk you through the options, then decide whether you want pick-up, delivery or full service catering. Then, you can fine-tune your budget even further, helping to ensure the food matches your event perfectly.