Chicago BBQ Catering Menu
Starter Platters
The Famous Dave's Starter Platters are a great way to get the party started. Your guests can mingle and munch this lighter fare while the buffet is being set up and the rest of your party goers arrive.

Buffalo or BBQ Chicken Wings

(2040-2080 Ca.) Wing Platter includes approx 20-24 wings.

(3830-4890 Cal.) Party Platter includes 50-60 wings.

Wing Platter: $31.49
Party Platter: $79.99

Dave's Sassy BBQ Salad w/ Georgia Chopped Pork

(1700-2000 Cal.) Crisp greens topped with bacon, cheddar cheese, tomatoes, shoestring potatoes and Georgia Chopped Pork. Served with Homemade Honey BBQ dressing on the side. Serves 8-10 people.

$28.99

Dave's Sassy BBQ Salad w/Texas Beef Brisket or BBQ Pulled Chicken

(1700-2000 Cal.) Crisp greens topped with bacon, cheddar cheese, tomatoes, shoestring potatoes and your choice of Texas Beef Brisket or BBQ Pulled Chicken. Served with Homemade Honey BBQ dressing on the side. Serves 8-10 people.

$33.99

Fresh Garden Salad

Per Person.

Fresh Garden Salad (20 Cal.) 1,2

$2.49
Vegetarian & Fish Entrées
Delicious options for those guests who choose not to eat meat. For convenience, these selections are ordered on a per person basis and include a choice of two sides and high-quality disposable paper plates, plasticware, napkins and wetnaps, along with our signature Rich & Sassy® BBQ Sauce. See sides for nutritional information.

Smokin Black Bean Burger+

(320 Cal.)2 Per Person. Tasty black bean patty on a bun with lettuce and tomato. Choice of two sides.

$12.99

Cedar Plank Salmon***

(220 Cal.) Per Person. 6 oz. salmon caramelized with pineapple BBQ glaze, then grilled on a smoldering cedar plank. Served with two sides (see sides for nutritional information) and Corn Bread (260 Cal.)

$17.99
BBQ Entrées
Delicious, slow-smoked meats finished on the grill. Choose your favorite meat, sauce and sides. We'll do all the cooking and package it up buffet style. Entrées are priced per person and include high-quality disposable paper plates, plasticware, napkins and wetnaps, along with our signature Rich & Sassy® BBQ Sauce. See sides for nutritional information.

Meat Selections: St. Louis-Style Spareribs, Texas Beef Brisket, Georgia Chopped Pork, Country-Roasted Chicken, Barbeque Chicken, Barbeque Pulled Chicken, Hot Link Sausage, Grilled Chicken Breast, Fried Chicken

Side Dish Selections: Wilbur Beans (180 Cal.), Creamy Coleslaw (200 Cal.), Garlic Red-Skin Mashed Potatoes (100 Cal.), Dave's Cheesy Mac & Cheese (150 Cal.), Buttered Corn Niblets (100 Cal.), and Collard Greens (160 Cal.)

The Big Pig

(340-2010 Cal.) Choice of three different meats . Served with a Corn Bread Muffin (260 Cal.)

2 Sides: $19.99
3 Sides: $20.99

Brisket & Meat Combo

(680-1320 Cal.) Texas Beef Brisket & choice of one meat. Served with a Corn Bread Muffin (260 Cal.)

2 Sides: $17.99
3 Sides: $18.99

Lil' Pig

(200-1460 Cal.) Choice of two meats (excluding Brisket). Served with a Corn Bread Muffin (260 Cal.)

2 Sides: $16.99
3 Sides: $17.99

Just Ribs

(60 Cal.) St. Louis-Style Spareribs (4). Served with a Corn Bread Muffin (260 Cal.)

2 Sides: $19.99
3 Sides: $20.99

Just Chicken

(330-460 Cal.) Two pieces of Country Roasted, Fried or BBQ Chicken. Served with a Corn Bread Muffin (260 Cal.)

2 Sides: $12.49
3 Sides: $13.49

Piglet

(490-690 Cal.) Georgia Chopped Pork, Texas Beef Brisket (+$1 per person) or BBQ Pulled Chicken Sandwich (+$1 per person).

2 Sides: $12.99
3 Sides: $13.99

Piglet 'N More

(710-1070 Cal.) Georgia Chopped Pork, Texas Beef Brisket or BBQ Pulled Chicken Sandwich and choice of Country Roasted Chicken, Fried Chicken, Barbecue Chicken, or St. Louis-Style Spareribs.

2 Sides: $17.49
3 Sides: $18.49
BBQ Bundles
Can't pick just one meat? Order a BBQ Bundle!We've combined Chicagoland's favorite slow-smoked meats and juicy pulled pork and chicken to give your guests a smorgasbord of our award-winning flavors.

Please, no substitutions

Just the Meat Please

(12,230 Cal.) Serves 8-10. 2 Whole Country Roasted Chickens, 2 Pounds Texas Beef Brisket, 2 Pounds Georgia Chopped Pork, 2 Pounds Hot Link Sausage, 1 Loaf Texas Bread. No substitutions.

$174.99

BBQ Blowout

(31,490 Cal.) Serves 18-20. Mild Chicken Wings, St. Louis-Style Spareribs, Georgia Chopped Pork, Buns, Wilbur Beans and Creamy Coleslaw. No substitutions.

$389.49
Beverages
Nothing washes down good ole' down-home barbecue like an ice-cold sweet tea. But we understand the need for choices! Choose from iced tea, sweet tea, lemonade, soda or water. Whatever your beverage of choice is, we'll be sure it's cold and refreshing.

Iced Tea, Sweet Tea, Lemonade

(0+1440 Cal.) Per gallon.

$6.99
Heavenly Homemade Desserts
Save room for dessert! If you've ever been to a true Southern barbeque, you know how heavenly banana pudding is. Light and fluffy and just sweet enough to satisfy your sweet tooth. Of course, ALL of the Famous Dave's desserts are rich and delicious. Order a couple to share!

Dave's Award-Winning Bread Pudding

$2.49

Down Home Banana Pudding

$36.99

Freshly Baked Chocolate Chip Cookie

$1.99
Sauces: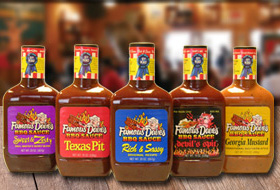 Rich & Sassy® mild
Buffalo


Devil's Spit®



Wilbur's Revenge®




---
+Requires 24-Hour Notice
*Consuming raw or undercooked meats, or seafood may increase your risk of foodborne illness.
1Fresh Garden Salad calorie count does not include dressing
(120-380 Cal). 2Items marked vegetarian do not contain meat or fish but may contain eggs and/or milk.
A 2,000-calorie daily diet is used as the basis for general nutrition advice; however, individual calorie needs may vary.