We Love a Good Cause!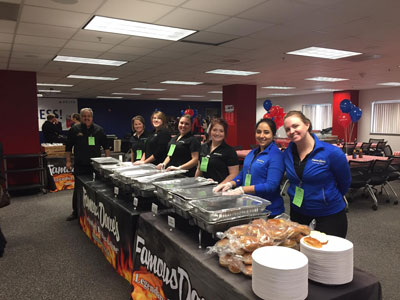 Famous Dave's is committed to lending a hand to causes that aid in the well-being of our community and our environment. For your charitable donation requests please use the online form below. This form should be sent to us at least 6 weeks prior to the event.
Please note: While we would love to help out any Chicago cause in need, due to our large volume of requests, not all of the requests will be granted a donation. We consider ourselves a good corporate citizen, and while we are willing to share our good fortune, we need to be selective.
---
Donation Request
Some of Our Sponsorships Include:
Bolingbrook Rotary Club
Bristol Elementary School
Brokaw Elementary School
North Central College in Naperville, IL – Skills for Grills Classes
VFW Post 7446 – Addison, IL
Oswego Chamber of Commerce
Special Olympics of Illinois
Yellow Box Community Christian Church – Pigs Fighting Poverty Event
The Teen Bridge Center – Orland Park, IL
PCs4Kids
Vietnam Moving Wall
FBIAA – Federal Bureau of Investigation Agents Association
Midwest BBQ for the brave
Pros vs. GI Joes
Dwayne Wade and Charles Tillman Sports Academy
Naperville Parks District
Fight2Feed
Make-A-Wish Foundation
Champ Community Project
Lemont High School
Cota Children's Organ Transplant Foundation
Sheridan Grade School
Oswego High School
Hinsdale South High School
Boy Scouts of America
Knights of Columbus 9893
Indian Trail Elementary
Hobson School
Edgewood School
Midwest Christian Montessori
Grant Elementary School
Addison Trails High School
Niles North High School
Wheatlands Elementary School
Jubilee Baptist Church
Mosaic Lutheran Church
Little People of America Windy City Chapter
Otter Creek Elementary
Christa McAullife Elementary School
Liberty Elementary School
Holy Ghost School
Morgan Park Academy
Mothers Against Drunk Driving
Chrystal Lake Library
Sheridan Fire Department
United Airlines Fantasy Flight
Some of Our Partnerships Include:
Illinois Barbeque Alliance – IBBQA – member
Illinois Barbeque Society – member
We partnered with the Cornerstone Foundation, which is Peanut Tillman's organization. In 2016, we raised money at our porking lot parties for his organization.
Windy City Thunderbolts