Barbecue Catering in Chicago For High School & College Graduation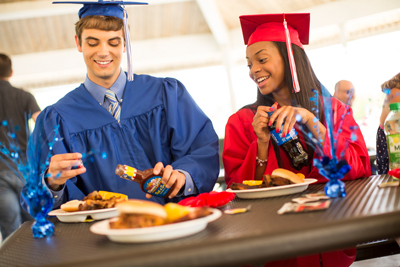 High school graduation is a big deal. Your graduate has worked hard for the last 4 years to complete his or her schooling, apply to college, and even make sure to order that cap and gown in time. Hey, it's the little things in life, right? Now it's time for you to celebrate your graduate in the manner he or she has earned: with a super-dope lunch! After all, excellent food is the gateway to any teenager's heart, so we're pretty sure you're on the right track.
Or, perhaps you're gathering to put on a big event for a college graduate who has just wrapped up 4 (or 5) years of grueling exams, term papers, extracurricular activities and, okay, the occasional frat party. Now, you know a college student and his or her friends is going to want some finger-licking goodness at their blowout … and that's where Famous Dave's comes in.
Affordable Indoor and Outdoor Catering for Graduation Parties in Chicagoland
With more than 700 awards nationwide, Famous Dave's has earned its name as one of the best (if not the best) barbecue options in Northern Illinois. We offer a huge range of choices, including:
Authentic Barbecue Options: Our styles hail from Texas, St. Louis and other centers of American BBQ. Whether you're looking for ribs, chicken, brisket, sausages, wings or any of the other classics, chances are good we've got you covered.
Side Dishes Galore: Mashed potatoes, green beans, baked beans, potato salad, rolls, fruit salad, veggie platters, salmon spread and more all complement our main courses with delicious perfection.
Down-Home Dessert: Whether you're looking for banana pudding, hot fudge brownies, sundaes or bread pudding, we're here for you. We know you want the authentic options, which is why we've perfected these recipes to please your taste buds, your tummy, your guests and your graduate.
Not only do we provide a huge range of food choices, but we help you pick a range of foods that will complement one another as well as the style of your event. No one will go hungry, we promise you that. If you want to find out more, you can check out our menu or get in touch today.
Consider Your Search For "Graduation Catering Near Me" Found!
Looking for local catering in Chicago? You've found us. Famous Dave's does it right, offering you tons of options for customizing your special event so you can put on the exact party your graduate will love. Whether your event is indoors or out, we can accommodate. If you're having your celebration in a park, at a campsite or lodge, in your backyard or on an open lot, we can help create the ambience you're looking for with our fiery red, BBQ-emblazoned truck. Or we can go it old-school with a beautiful buffet stocked with all the fixin's.
If you're ready to get that party going, give us a call. Our friendly staff will walk you through all your options, help you pick the perfect mix for your event, then give you a firm quote. That way, on the day of, all you have to do is enjoy yourself. Don't wait, get in touch with Famous Dave's Chicago today!