Savory Barbecue Food To Go Near Elmhurst IL
The Best BBQ Food To-Go in Chicago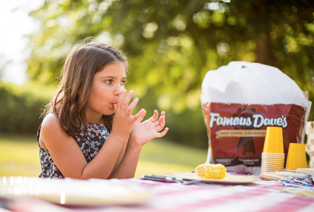 Time to get some barbecue food to go? Here at Famous Dave's, we've got you covered. With a fully outfitted menu, we've got the barbecue entrees, sides and desserts to perfect your evening meal, your picnic lunch, your out-of-town trip or your impromptu family reunion. We make ordering easy, too. No waiting in long lines when you can just call for pickup and get exactly what you want, all bagged and ready to go when you get there.
If you're looking for a top-quality barbecue dining experience without having to sit down at a restaurant or make it yourself, it's time to make Famous Dave's your go-to barbecue take out restaurant ... and find out why we're famous. Hint: Our barbecue rocks. But you probably knew that.
---
Plenty of Options for Your Night In
Whether you're having a special party, need to feed the office during a tough deadline, or just love take out on a busy night, our comprehensive barbecue menu is just the thing. We offer soups and salads, so you can balance out the richer tastes of caramelized meat and buttery mashed potatoes.
We've got all your other favorites, too, such as:
Rib tips
Pulled pork and chicken
Hamburgers
Sandwiches
Potato salad
Coleslaw
Bread pudding
... and more.
Whatever your perfect idea of barbecue looks like, we'll help you realize that dream. Don't wait to give us a call or walk in, and get yourself a heaping helping of our famous slow-cooked meats and from-scratch sides today.
View Our Barbecue Food To Go Menu

You can easily modify the sizes of your meals too. Eating for one has never been simpler, or you can feed more through our value-added options. Consider Famous Feasts, a combination of meats and sides that will feed between 2 and 6. Or you might enjoy the Family to Go option, ideal for a busy night of homework and swimming lessons, or a movie night. (Popcorn not included).
If you've got little mouths to feed, consider our entrees for more delicate palates. We offer corndogs, chicken tenders and other fan favorites for the younger crowd, so feel free to add those on to your adult-friendly options.
---
The Chicago Take Out Restaurant You've Been Looking For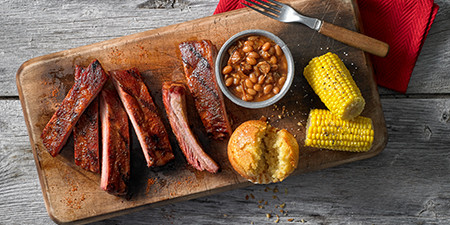 We're called "Famous Dave's" for a reason. Believe it or not, we've won more awards than any other pitmaster in the nation, or the world. To date, we've won more than 700, from local shoutouts to 10 Restaurant of the Year awards. And while we're super proud of our homey restaurant environments and the fact that our patrons return again and again, rest assured knowing that our delectable barbecue is just as delicious at home, at the office or at your backyard wedding.
Now you can enjoy the tastes and feelings of a great home-cooked meal, while you live the life you want. So whatever you need, give us a call and let us know. We'll get you stocked up on BBQ, then out the door to enjoy whatever awaits you elsewhere.
---
Bring home award-winning barbecue food!
Give us a call to order some of the best BBQ in Chicago!