Love Great BBQ?
Join Our Growing Team!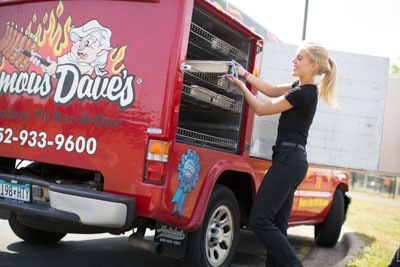 Famous Dave's in Chicago is always looking for enthusiastic BBQ lovers. Are you an experienced Pitmaster, high-energy, kid-friendly server, Drinkmaster or catering professional? Download the application on this page and contact the Famous Dave's near you for open positions. We'd love to hear from you!
What It's Like to Work at Famous Dave's
At Famous Dave's, we want our guests to feel instantly welcome- like a member of our family. From their initial greeting to the personal attention we give them throughout their dining experience. We want our guests to appreciate our local BBQ joint vibe week after week, month after month- and that feeling begins with you. If you are enthusiastic, genuinely care about providing outstanding service, and enjoy being part of a hard-working team, we want you! To learn more about the Famous Dave's experience, watch our video!
Ready to Check Out the Career Opportunities at Famous Dave's? Explore Our Job Postings!