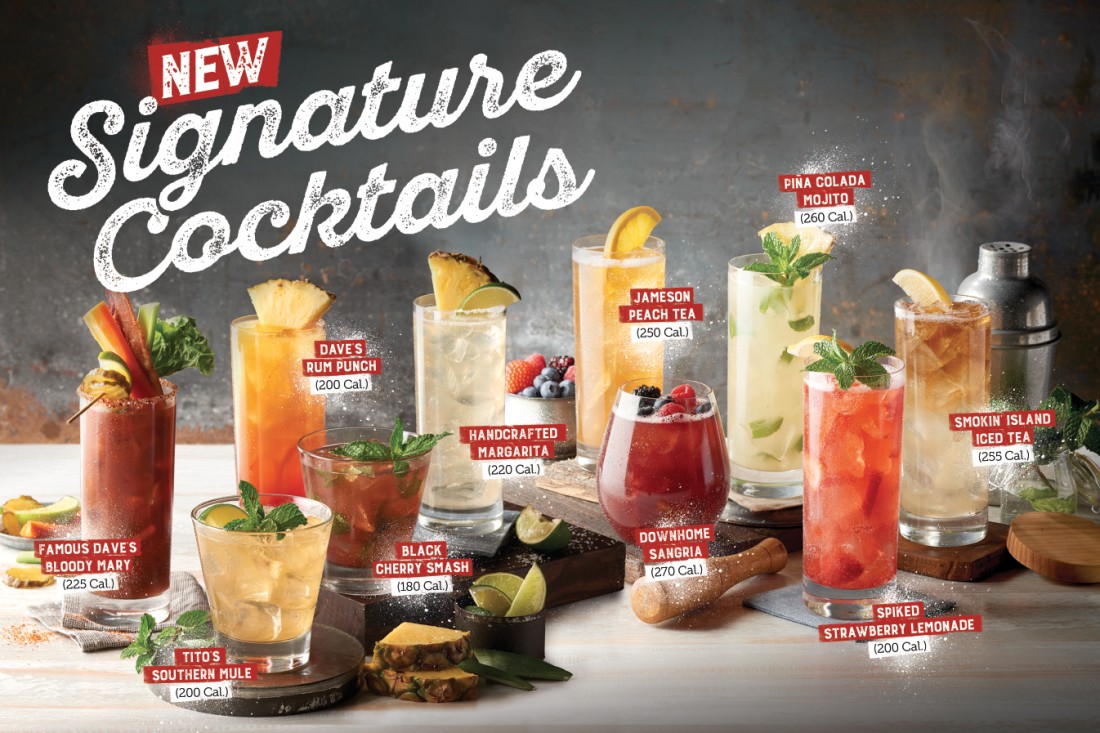 TRY OUR NEW SIGNATURE COCKTAILS FOR A LIMITED TIME!
Smokin' Island Iced Tea
(255 Cal.)
Smoked and prepared tableside with Stoli Vodka, Cruzan Light Rum, New Amsterdam Gin, triple sec, simple syrup, fresh-squeezed lemon juice and topped off with Pepsi.
Spiked Strawberry Lemonade
(200 Cal.)
The perfect cocktail! Stoli Vodka muddled with fresh strawberries, strawberry puree, mint simple syrup and fresh-squeezed lemon juice, topped with club soda.
NEW!

Piña Colada Mojito
(260 Cal.)
A fresh spin on a favorite cocktail! Cruzan Pineapple Rum, Cruzan Coconut Rum, pineapple juice, fresh lime juice, CoCo Reàl Cream of Coconut, fresh mint and club soda.
NEW!

Down Home Sangria
(270 Cal.)
A fruity and refreshing mix of Pinot Noir, St-Germain Elderflower Liqueur, triple sec, Raspberry Reàl Infused Syrup, Mango Reàl Infused Syrup, orange juice, and lemon-lime soda topped with fresh berries.
NEW!

Jameson Peach Tea
(250 Cal.)
Perfect for porch swing sipping, this tea features Jameson Irish Whiskey, triple sec, Peach Reàl Infused Syrup, simple syrup and fresh-brewed iced tea.
Handcrafted Margarita (220 Cal.)
A fantastic hand-shaken classic or fruit margarita with el Jimador Blanco Tequila, triple sec, fresh-squeezed lime juice and Blue Agave Reàl Syrup. Seasonal fruit flavors available.
NEW!

Black Cherry Smash (180 Cal.)
A smash with a Famous Dave's twist! a refreshing combination of Smoked Jack Daniel's Tennessee Whiskey, Black Cherry Reàl Infused Syrup, simple syrup, fresh mint, fresh lime and barbecue bitters.
Dave's Rum Punch (200 Cal.)
A 5-flavor punch with punch! Cruzan Spiced Rum, hand shaken with Passion Fruit Reàl Infused Syrup, fresh pineapple and orange juice, topped with grenadine.
NEW!
Tito's Southern Mule
(200 Cal.)
Even Mama would approve of this mule with a southern twist featuring Tito's Handmade Vodka, simple syrup, fresh lime juice, fresh mint and Ginger Beer.
NEW!
Famous Dave's Bloody Mary
(225 Cal.)
Have your cocktail and eat it too! Our famous Bloody Mary with New Amsterdam Vodka, Famous Dave's Bloody Mary Mix, Texas Pit BBQ Sauce, fresh lime and olive juice, rimmed with our very own Brisket Rub and topped with a Famous skewer. Want a kick, ask for Devil's Spit®.
Available for a limited time at Famous Dave's in Addison, North Riverside and Orland Park. Must be 21 years or older to order and consume alcohol. Must have valid ID present when ordering. Manager reserves all rights.
Written nutrition available upon request. A 2,000 calorie daily diet is used as the basis for general nutrition advice; however, individual calorie needs may vary.