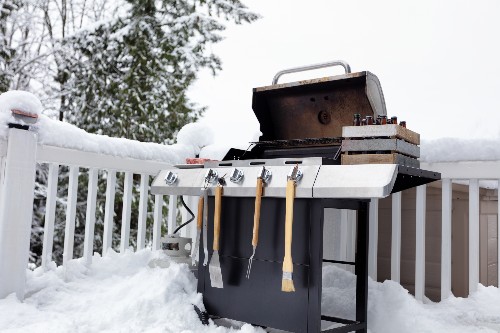 At this point, we have had a few snowfalls, the cold has been here for months, and spring is still a distant goal. Despite the weather, many die-hard barbequers have a craving that only the grill can satisfy. For our hardiest of friends, grilling is a year-round approach to cooking. We need not let snow or the cold get in our way!
If this sounds like you, you are among friends. Many people bring grilling into every page of their calendar. But make sure you follow our tips for winter grilling so you can safely cook and eat your favorite grillables. Read on to learn about our dos and don'ts of winter grilling.
Winter Grilling Tip #1: DO Wear Warm Clothes
The grill gets hot, but outside is still cold. Make sure to wear warm clothes that wrap close to your body. Stay away from scarfs or other dangling materials. Cover up, so you don't rush the grilling.
Winter Grilling Tip #2: DO Have a Clear Path
Make sure you have a clear path to the grill. Shovel away all snow and spread salt for any ice before sparking your grill to life. Clear any snow and ice off your grill as well (if you have a cover, this won't be a problem).
Winter Grilling Tip #3: DO Relax and Be Patient
There may be intense weather or even some extra winds that drive the temperature down. Add some additional time to your preheating to make sure your grill gets up to the right temperature. Remember, better to take your time and have a great meal, then rush it and waste your food and time.
Winter Grilling Tip #4: DO Have Backup Fuel
The extra time preheating your grill may mean you need extra fuel. Have an extra propane tank or charcoal on hand to see you through your meal, and hopefully the next one, too!
Winter Grilling Tip #5: DO Grill Your Regulars
Winter is not the time to experiment. Go with the meals you know and love. Stick with meats you do well and recipes that you are confident in doing again. Summer is a great time to try new recipes and explore.
Winter Grilling Tip #6: DON'T Leave the Lid Open
Keep that lid closed! It doesn't need to be all the time, but the more you keep your grill lid closed, the fewer temperature fluctuations you will have inside. These changes can lead to uneven cooking. Cut down on the cooking time by leaving the lid closed.
Winter Grilling Tip #7: DON'T Treat Your Grill Gloves Like Snow Gloves
Grill and snow gloves aren't the same. Use the right tool for the right time to make sure your hands have the protection they need to stay safe.
Winter Grilling Tip #8: DON'T Grill inside a Garage
We know it's cold outside, but grilling inside a garage or overhang is a bad idea. Keep your grill no closer than two feet from any combustible material and any structure. You may have to take a few extra steps, but your home and your garage will be safe, not to mention your wellbeing.
Take a Break and Taste Great BBQ in the Winter
There you have it. If you stick to the above tips, you should be all set for winter grilling. When you need a break from the weather and prep time but still want great barbeque, stop by Famous Dave's. Our award-winning sauces add the finishing touch to our smoked and grilled meats with the best sides to compliment them.
Stop into the closest location of Famous Dave's for you today to enjoy a great meal without the winter hassle.