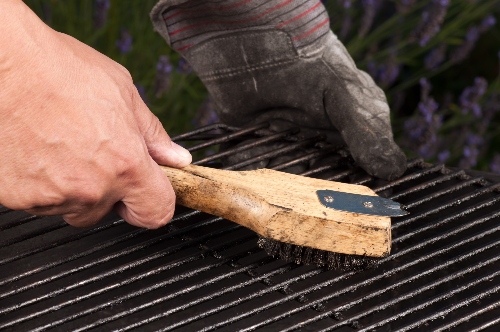 After a long winter and despite much social distancing, it is time to dust off your grill. If you have found that you put off firing up your grill for the season, you are not alone. But now is the time to start it up for you and your family to enjoy some of the nice weather and great grillables, even if that doesn't mean hosting blowout summer parties.
It's no fun when your family plans on having a BBQ cookout, only to be left with a smoking grill or one that one light. Keep reading to learn our top tips in prepping your grill the right way for the season.
1. Stay Safe by Checking Your Hose
Grills are mostly easy to use, but that can cause people to forget - they are fire cannons. Especially when yours has been out of commission for a while, check it out before firing it up. Gas grills are the big ones here. Inspect your propane line and burners. Make sure everything is intact, and there are no holes. Clean up any gunk and if you notice holes, replace the line. Trust us - it's worth it.
2. Clean Off the Grates
We all get relaxed about cleaning every once in a while. The first use of your grill for the season is not the time to be lazy. Take the grates out, scrub them down, then turn to the grill. Use a wire brush to really get in there and knock as much off as you can. We don't recommend using soap here. It can be tough to rinse off and stick around when you start cooking food. Eating soap is bad.
3. Give Your Burner's Lid a Deep Cleaning.
Now let's turn to your lid. There may be a charred coating on the inside of your lid. There is no flavor benefit, just dirt and chipping paint that can get into your food. Clean out the inside of the lid with a coarse sponge and a wire brush if necessary.
4. Don't Get Caught in the Trap of Having too Much Grease
Another spot most people miss is their grease trap. Make sure to pull out the trap and give it a thorough cleaning. Make it easy on yourself and line the trap with aluminum foil so cleaning won't be as tough.
5. Last Step, Check Your Gas Level
Weighing your gas tank can help tell you what your gas levels are. You can get a grill scale or go for just a simple bathroom scale. Look for the "tare weight" (the weight of the tank when empty). Weigh your tank then subtract that value from the tare weight. For every pound of gas, you should be able to get about 21,600 BTU per hour. Check on your grill's capacity.
Grill Like the Pros or Eat Like them
We hope these tips help you get your grill all set for the season. It is also a good idea to keep an extra tank of propane on hand just in case you run out unexpectedly. If you do run out, it gets too hot, or you just want some good 'ole take out, Give Famous Dave's a call. Our team is practicing additional safety measures to make sure you can get quality take out BBQ while staying healthy.