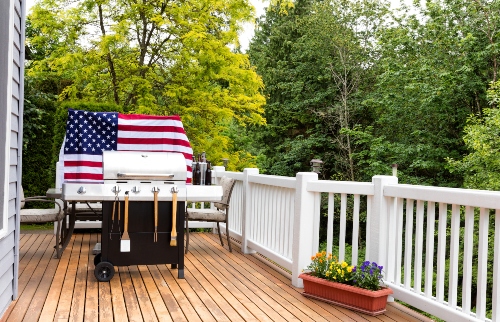 Memorial Day is quickly approaching. Now is the time to remember those our country has lost as well as celebrate the community and people we have at home. Starting with the community we have in our home, Memorial Day is a great family event.
The current stay-at-home order in our state won't prevent you and your family from having a great family holiday. This year's celebration may look different than other years, but there is a chance to bring in some familiar touches. Keep reading to learn our tips for prepping for your family Memorial Day BBQ during the Coronavirus pandemic.
1. Make it Fun with a Theme
Going patriotic makes for an easy theme. Red, white, and blue plates and napkins make decorating a breeze. Make some crafts beforehand with the kids (also good to give them an activity if you are working from home). Easy crafts include pinwheels and painted stars. Try filling mason jars with flowers from around the yard or a nearby park, then tie festive ribbons around the jars.
2. Keep it Simple
Today is a holiday and a much-needed chance for you and your family to take a break. Go easy with the menu. Try a few staples for the main dishes (burgers, chicken, hot dogs, etc.) and then go for a few sides. Help everyone feel connected by asking each family member to be in charge of one dish.
3. Grilling on the Big Day
Get the food all set up, so no one is worried about being hungry. Make sure to prep your meats with dry rubs or marinades for extra flavor. Clean off the grill with soap pads or wire brushes. Preheat the grill for about 15 minutes. Now get into the grilling and don't forget to have a cold drink nearby!
4. Competition Brings out the Smiles
Everyone likes a little competition. Get out the lawn games. Try cornhole or horseshoes for hours of fun. For larger families, three-legged races and water balloon tosses are great games for hours of fun. If you have a few activity zones, the kids will have something to do while you are getting food ready.
5. Have a Backup Plan
Always have a backup plan. Rain can ruin outdoor plans, or just change them. Have a slip-and-slide handy if the rain starts pouring. Make sure you can switch to indoor cooking. Have some indoor games as a good plan B.
Take it Easy with Takeout BBQ from the Famous Dave's
Make your Memorial Day BBQ even easier with takeout or catering from Famous Dave's. Whether you need a backup plan or want to focus on the games of the day and relaxing, we have your tasty food covered. Our award-winning sauces and recipes will have the whole family satisfied and full. Though our dining inside the restaurant is currently closed, we can make the food for you in a safe environment.