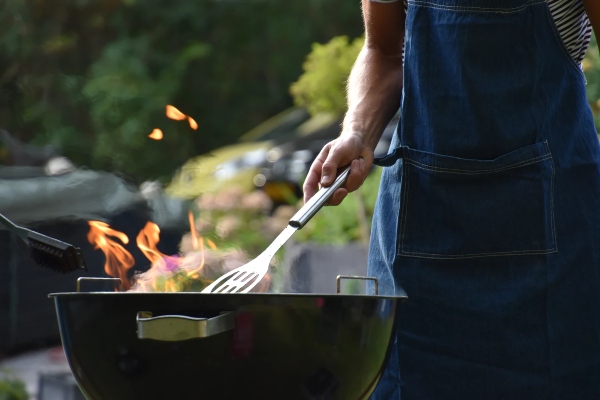 Planning on having an outdoor event this Halloween to celebrate the occasion? If so, then you're going to love some of these fantastic Halloween-themed BBQ dishes. They'll add a unique twist to your big event and it's a brilliant way to get creative with your food. Keep reading for some suggestions on how to add some holiday flair to your BBQing.
1. "Bat" Wings
If you want to add a spooky twist to your chicken wings, then it's as simple as adding a bit of black food coloring to some sauce and glazing it over them.
We'd suggest choosing one of your favorite sauces and placing it into a bowl. Add a small drop of black food coloring and give it a mix to see how dark it turns. Not dark enough? Add another drop or two until you get the desired color. Next, simply brush it over your chicken wings as they're on the grill to give it a delicious flavor while also transforming it into a bat.
The other way is to make a marinade that has black food coloring in it. The marinating process will take roughly around 6 to 24 hours, depending on how deeply you want the flavor and color to penetrate.
2. "Finger" Hotdogs
Hotdogs are a staple at any barbeque and these "finger" hotdogs are a fantastic way to spook your guests and are extremely easy to make. These are made pretty much like any regular hotdog; that means you'll need hotdogs, buns, and some sauces of your choice.
The secret to turning them into a finger is cutting a small portion off the top of the hotdog to mimic a fingernail. Since the meat underneath the skin is lighter than the skin itself, it will look like a fingernail if you cut it properly. If you want to add a bit more realism, you can score the hotdog with small horizontal cuts to make folds in the skin, much like your own finger!
This is a simple and effective way to turn a BBQ staple into a Halloween treat. Just make sure not to smother the fingernail with sauce, or else you'll ruin the appearance!
3. "Eye" Meatballs
Our next Halloween treat is "eye" meatballs. These are yet another very simple way to turn a barbeque regular into a spooky treat.
Simply prepare meatballs as you normally would on the grill. As they cook, you want to add a small circular slice of mozzarella to act as the white part of the eye. Place it on the meatball as it's cooling down and it will slowly melt to cover the eye. Next, slice a black olive to get a small circular piece to act as the pupil. Place this onto the cheese.
And that's it! Your eye meatballs are done. You can serve these on their own as finger food, or you could even add them to a bowl of spaghetti or pasta with the noodles acting as "worms" and the tomato sauce as blood!
Rely on Famous Dave's for Your Excellent Carryout BBQ When You are too Busy to Cook
We hope the suggestions above will work for you or have sparked some good ideas for your family's Halloween BBQ. Sometimes, last-minute changes ruin plans. If you want to take out the hassle of cooking, have Famous Dave's take care of the BBQ. Our award-winning selections and sauces will make any event a success. Give our team a call to make your catering or carryout order today.