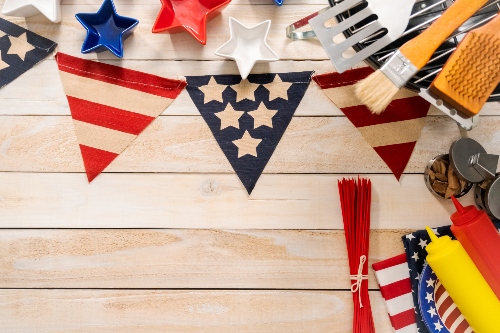 Summer is here and with it comes all the parties and fun outdoor events. First winter and then the Coronavirus kept everyone inside and away from friends and family. Now that restrictions are beginning to ease, you can start planning small get-togethers. Independence day is right around the corner, so now is the right time to start planning your event to be full of good laughs and great BBQ food.
Keep reading to learn how to put on your DIY family BBQ party for the 4th of July.
1. Make a Guestlist and Call Your Family Now
Consider who you would like to have at your backyard BBQ party. Make a list, trim it down to keep it close friends and family (to keep with the social distancing guidelines), and make your calls now. Give people as much notice as you can so they can be ready for your event.
2. Choosing the Right Independence Theme for Your Guests
Make the event more lively with a theme. Keep it simple with the U.S. patriotic colors of red, white, and blue. Try using these colors for your plates, plasticware, napkins, table coverings, and any streamers or ballons you get if you are feeling wild. If your event stretches into the night, consider mason jar candles with red, white, and blue ribbons tied at the top.
3. The Right Menu for the Day
Keep people happy with the right menu for your fourth of July party. Choose BBQ staples such as BBQ chicken, ribs, burgers, corn on the cob, baked beans, coleslaw, and more. Get others in on the fun by having them help with the cooking and prep at their homes so everyone can bring a dish. On the other hand...
4. Benefits of Choosing a Catering Service
...you could have your party catered. Choosing to have your party catered by Famous Dave's will help save you grocery shopping, cooking and prep time, and last-minute problems. Our award-winning BBQ, smoked meats, and signature sauces will make your meal a success. It has been a while since you've seen some of your loved ones, so let this event be your chance to catch up with them. We'll take care of the meal food so you can take care of your people.